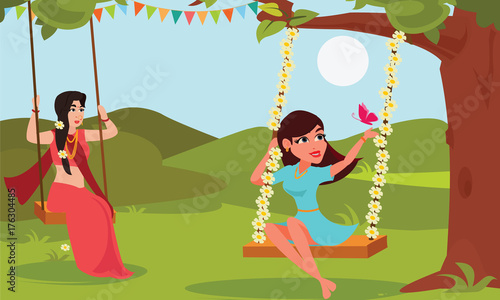 Banaste Dakila Gaja,
Barasa Ke Thare Asichi Raja,
Asichi Raja lo Gheni Nua Saja Baja... so the old Odia folksong on Raja goes.
The Raja festival is upon us. We know it and celebrate it as three days of fun, joy, celebrations, new clothes, home cooked pitha, preceded by days of shopping for new clothes and ingredients.
The Raja festival
is the day of the year when the earth weeps tears of joy as its dry soil is drenched with the first monsoon rains. It is during the time of Mithuna Sankranti, which is when the first rains of monsoon strike Odisha. There is also an allusion to the menstrual cycle of young girls of age in the festivities that occur during Raja. While girls have their periods every month, Mother Earth has hers every year.
The festival is a tribute to mother Earth and she is given respite these days and not allowed to carry any burden. The traditional Odia family jobs of "kata", bata", "randha", "badha", "boha bahi" are spared to young girls these few days.
The Odia folk song Banaste Aila Gaja
means this is the time when the Elephants meet to mate (maithuna) in the forests, elephants which are revered creatures in Hindu anthology and closely related to the Mother Earth.
On the first day of Raja (Pahali Raja) - young unmarried girls are not supposed to work or touch their feet to the ground. Thus the purpose of the swing so that the feet doesnt touch the groud. Girls deck up in jewellery and finery and enjoy the day on the swing or the cot, while having steamed and burnt delicacies like poda Pitha, and largely food that has not been cokked on hearth.
The day 2 of the Raja is considered to be the main festival. It falls on the day of the Mithun Sankranti. The girl is considered to be the "Rajaki" or like a princess, puts on alta and other finery.
The Day 3 of Raja is the basi Raja, where the young princess is again allowed to mix with everyone and come down from her throne (doli), take down her fineries.
The days are filled with fun and festivities, shopping, games and cooking competitions.
Looking back at the origins of the festival again;
The three days of Raja correspond to the three days of menstruation where women were said to be untouchables for social and hygienic reasons. As per the scriptures the women were Chandala (Untouchable), Brahmaghatini (hurting) and Rajaki on those days. Rajaki also meant a washerwoman, the day the woman cleans her soiled clothes. And the fourth day when finally the woman is considered to be clean or "Suddha" after taking her bath.
All the above are described in the "Rajaswala Dharma" or "Religious Duties of Menstruating Women" for women in our ancient texts.
I am heartily thankful for the modern day Raja celebrations without their primitive connotations!